The Luena Foundation Announces Strategic Partnership with Minga Valpo
Luena Foundation is proud to announce its partnership with Minga Valpo, a registered Chilean non-profit that addresses the poverty and psycho-social risk factors affecting children in the marginalized neighborhoods in the city of Valparaíso.
Perched on a ridge high on the Cerro Merced, Minga Valpo's bio-constructed ludoteca (clubhouse / recreation center) exudes a warm, made-from-scratch kind of appeal that instantly welcomes all whom approach. On any given afternoon, a group of up to thirty neighborhood kids cluster around Loreto, their head-teacher, as she walks them through the steps of preparing quinoa burgers, or as she illustrates the finer points of creating embroidery on a square of burlap. They play board games together with groups of volunteers from all over the world or develop their own versions of bio-sustainable housing from bins of Lego bricks. Outside, a group of ten-year-old boys share laughs around a common space constructed from up-cycled used tires. Wooden pallets and particle board merge with homemade glass mosaics and muslin curtains. Children's artwork brightens the adobe hallways and the whole place feels just right.
For a few hours a day, four times a week, the kids who come to spend time at Ludoteca Merced can get off the dangerous streets of Valparaíso. They can distance themselves from the bums on the corner smoking paco, they are safe from an abusive family member. At their ludoteca, they have an opportunity to learn, to play, to work as a team, to feel included, to be listened to, to listen to their peers, to let their imaginations run free.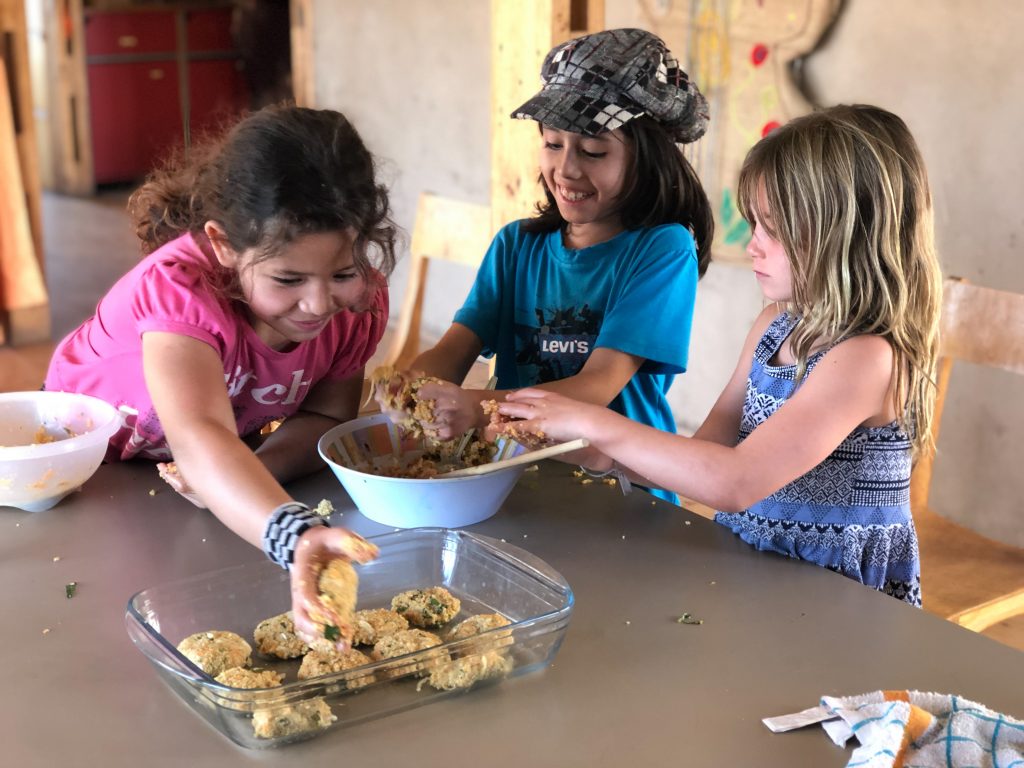 Combating Social Exclusion by Protecting A Child's Right to Play
"These kids are growing up here", Carolina Moraes, the founder of Minga Valpo, informs us about her ludoteca. "Many have been coming for five years now, since we first began the project in Merced". She goes on to explain the psychological changes her team has observed in the kids over the years. Children who were once withdrawn and would seldom participate in the workshops now help guide the younger participants. Kids who were failing in school are now motivated and progressing in their studies. She sees happier kids, with more self-esteem all around, children who were suddenly turned on to their environment and who have become closer to their families. Kids who now want to make their own neighborhood better.
Through the construction and administration of a bio-efficient "ludoteca"; a community-based recreational/cultural space that is designed specifically for children and pre-adolescents (ages 3-13 years), Minga Valpo has sought to foster values ​​of solidarity, respect, generosity, self-discipline and care for the environment. Children participate in several daily workshops that promote their skills and learning while they receive guidance and support from facilitators and volunteer helpers. In addition, the ludoteca encourages the participation of parents and the inhabitants of the neighborhood, with the aim of creating a cohesive community and strengthening the bonds between parents and children.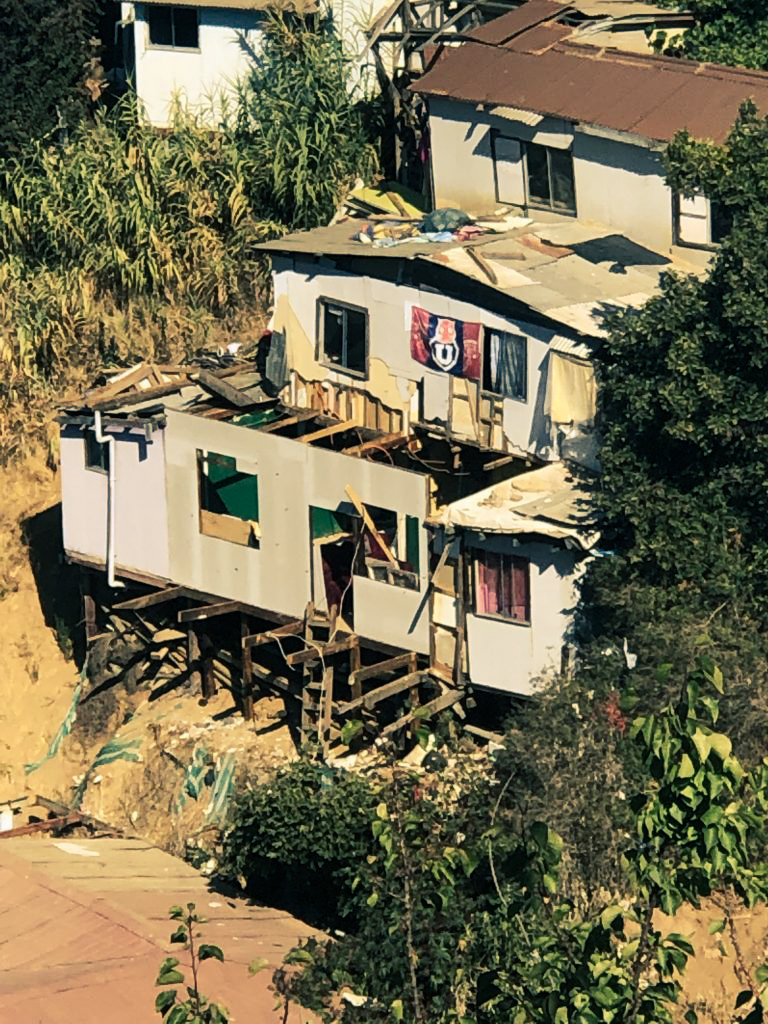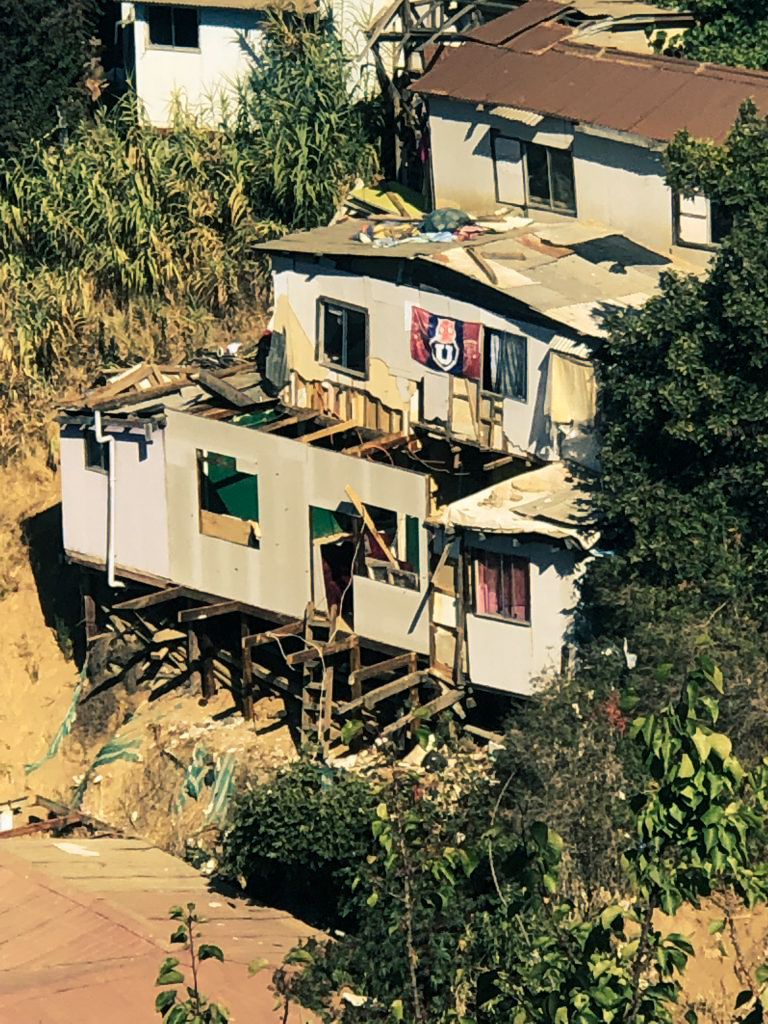 Los Campamentos de Valpo (The Slums of Valparaiso)
According to Un Techo Para Chile, the UNESCO World Heritage port-city of Valparaíso is the city with the most shantytowns in the entire country, and is home to one-third of the country's slum-residents. Referred to as campamentos, the densely populated hillsides surrounding the city are characterized by their lack of urban planning, prolific drug abuse, narco-trafficking, violent crime and their increased exposure to the devastating effects from natural disasters (fires, landslides and earthquakes). Often, the shantytowns have little-to-no formal access to the electrical grid, potable water or sanitation, and for the most part are inaccessible to vehicular traffic. Since 2011, a steady stream of immigrants from countries like Haiti and Venezuela has more than doubled the number of slums in Chile.
El Gran Incendio de Valparaíso (The Great Fire of Valparaíso)
The Minga Valpo project came about as a response to the devastating wildfires that swept through the hills, or cerros,surrounding Valparaíso on April 12, 2014. The blaze, which completely destroyed 3,000 homes and forced the evacuation of over 10,000 people living in the city's numerous shantytowns, disproportionately affected the city's most vulnerable population. A team of young volunteer architects snapped into action, working to construct durable but biologically sustainable homes for those displaced by the disaster.
While working in the hills after the fire, the Minga team quickly realized that there was an absence of public spaces reserved just for the local children. Parks, playground equipment…areas where kids could be just be kids without the threat of violence or exposure to drug use that was so common in their everyday surroundings. As studies indicated, Valparaíso's shantytown residents suffered from increased vulnerability and inequality from the outset of early childhood; the general lack of safe and adequate recreational places at their neighborhood level frequently led to the decreased cognitive and emotional development of the children who lived there.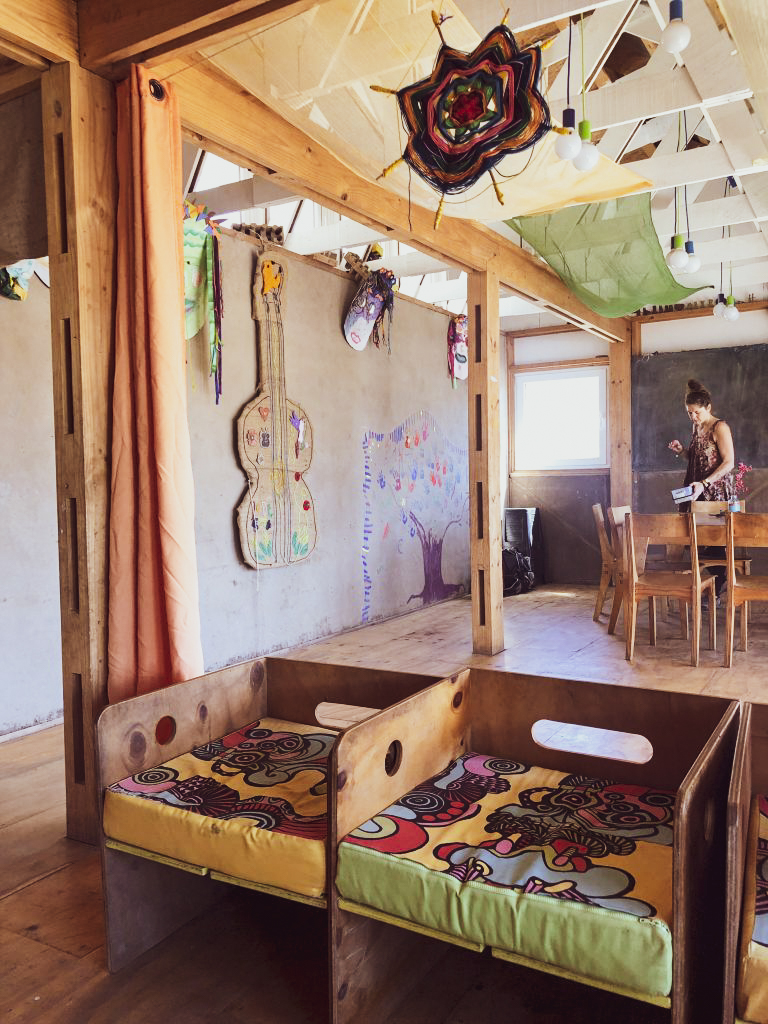 Creating Safe Play Spaces For Children
Beginning with the Cerro Merced, Minga shifted its focus to the construction of ludotecas, places where their team could work directly with the community to encourage healthy play through recreational workshops that would promote the development of social, motor, cognitive, emotional and linguistic skills for kids ages 3 to 13.
In the future, Carolina envisions a ludoteca on every cerro, a place just for kids within every vulnerable population throughout the city. We at Luena Foundation hope to make that dream some day a reality.