Luena Foundation Announces Strategic Partnership with Fundación Pilares
Luena Foundation is proud to announce its partnership with Fundación Pilares, a registered Argentinean non-profit that was founded in 2008 with the objective of working together with families that live in the villas, or shantytowns, surrounding the city of Buenos Aires to promote their integral development.
It's 10 a.m. on an overcast Tuesday morning and we are breathing hard in an effort to keep up with our guide as she darts down one of the narrow pasillos that cut through the heart of Villa 1-11-14. She's a local and it shows; not even Google Maps can decipher the web of interconnected alleyways and unmarked streets that more than 70,000 Buenos Aires residents call home, but she knows exactly where to find who we're looking for. We are accompanying the coordinator and resident social worker at Centro de Primer Infancia (CPI) "Floreciendo", a pre-kindergarten that provides free daily care to more than 150 local children from the villa. They are making their rounds through the neighborhood today in an effort to track down a missing alumni. Flor, the social worker, explains that most of the families they work with face extraordinarily challenging economic circumstances as a result of the poverty they encounter in their daily lives, something that often requires additional investigation and fieldwork on the part of the staff. "I think the extra time that we put in is one of the things that defines us at Pilares. It's important that these families know that we're here for them; that their children always have a place where they can learn and grow."
A Childhood Without Barriers
First and foremost, Fundación Pilares focuses on restoring and defending the basic rights that guarantee a child's access to quality healthcare, education, social inclusion, protection against violence, and an overall "good start" in life. Through the implementation of four pivotal social programs, the foundation assists nearly 1,077 families in two of Buenos Aires' largest and most densely-populated villas: Villa 21-24 (Barracas), and Villa 1-11-14 (Bajo Flores).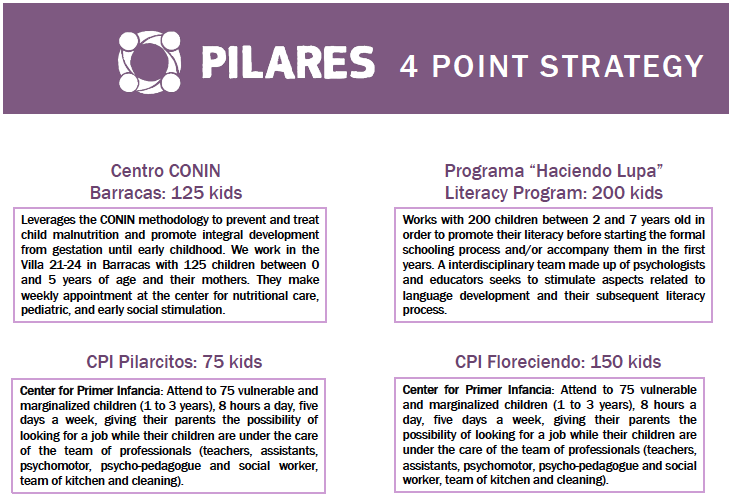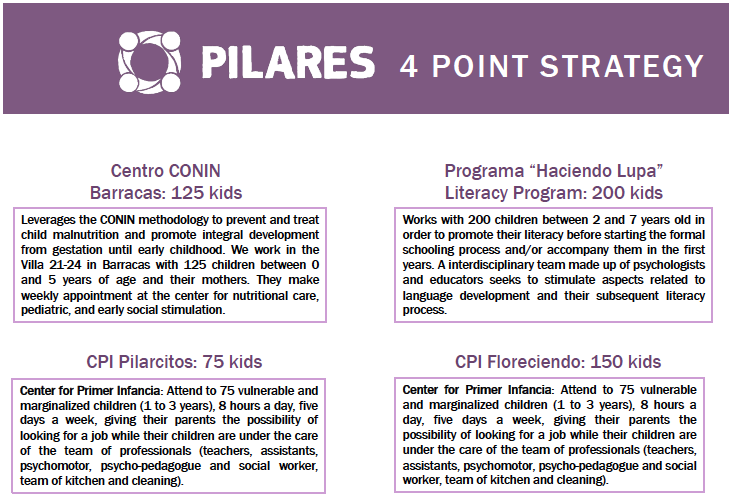 Centros de Primer Infancia "Floreciendo" and "Pilarcitos"
Through the implementation of their two CPIs (Centros de Primer Infancia), Pilares provides free access to high-quality early education to more than 275 local children between the ages of 1-5 years. Both CPIs provide comprehensive care and support from an interdisciplinary team of professionals, along with three meals a day. Importantly the CPIs provide a vital opportunity for parents to go to work while their children are looked after.
Centro CONIN Barracas
Of the 3 million children aged 0 to 4 living in Argentina, nearly 50% currently live in a situation of poverty and social vulnerability. Experiencing early childhood in this context not only jeopardizes their fundamental rights, but also their future possibilities to realize their full potential.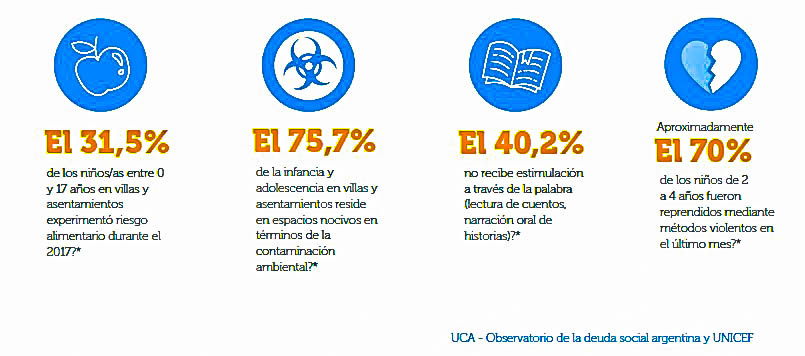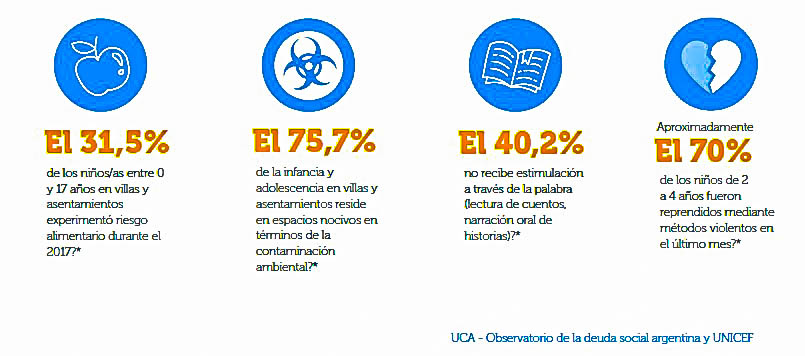 Pilares believes that it is in these first years of life that the greatest physical, emotional and intellectual development of a person occurs and their ability to learn originates. Following this philosophy, in 2013, Pilares established the first and only CONIN Center in the Capital of Buenos Aires, which works in the prevention of child malnutrition and the promotion of integral development from pregnancy to early childhood. Nine dedicated professionals (including a nutritionist, two pediatricians, occupational therapist, social worker, and psychopedagogue, among others), work with local mothers and their children ages 0 to 5 years old, offering nutritional care, pediatric visits, early stimulation workshops and social assistance. Cooking workshops and educational health-oriented talks for mothers are also given while the children remain in the center's playroom.
"All girls and boys are born with the same inalienable right to enjoy a healthy life, a quality education, a safe and secure childhood; in sum, all the basic opportunities that translate into a full adult life. A person's ability to learn and their attitude towards learning originate in their first years. A stimulating and receptive context can put the child on the path of discovery, openness to the outside world, and can provide them the ability to integrate information."

Fundación Pilares
Programa Haciendo Lupa
Perhaps most interesting is Pilares' mobile literacy program, Haciendo Lupa (Making a Focus), whose primary objective is to promote the development of language and pre-literacy throughout early childhood. Several studies have detected a correlation between a lack of early childhood pre-literacy with the high drop-out rate that occurs between primary and secondary-aged Argentine students. Many of the families living in Buenos Aires' villas are comprised of first and second-generation immigrants from neighboring countries like Paraguay and Bolivia, where indigenous languages (Guaraní, Quechua, Aymara) are often spoken in the home. Through a theory of "appropriation of language through play", Haciendo Lupa works with more than 200 children across all of Pilares' core programs (Pilarcitos, Floreciendo, CONIN Barracas) in addition to two other centers in Villa 21-24. A dedicated team of five professionals helps to provide tools that promote a child's self-expression at an early age so that they are able to make a better start in school and to continue in a successful learning environment.
We at Luena Foundation share Fundación Pilares belief that "every day is an opportunity for kids to explore, learn and discover all the potential they have. Believing in them is a first step for them to live a childhood without barriers."