Luena Foundation & CENCUDER
CENCUDER is a nonprofit organization registered in Cameroon with the mission to empower especially marginalized children and women to acquire skills in order to secure a better future for themselves.
PROJECT 1: Likoko Primary School: School furniture and other essential school supplies
Project: Provisioning of basic educational needs like books, pens, erasers , pencils, and school benches, tables & chairs
Location: Likoko Village, Fako Division, South West Region of Cameroon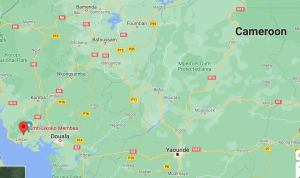 Likoko is village located at the foot of Mount Fako in Buea central sub division, Fako Division in the South West Region-Cameroon, Africa. The village has a total population of about 1,000 inhabitants of which 97% of the population are peasant farmers living far below the UN poverty line. The village is hosting many families and children who are orphans whose parents died as a result of either as a result 1) HIV/AIDS or 2) the ongoing Anglophone Crisis that has affected the southwestern part of the country since in 2016.
Our donation of $1,000 was used to purchase and distribute textbooks and basic school supplies and also to construct 12 benches, 2 tables and 4 chairs. Our efforts benefit the children attending Likoko Primary School and their teachers.
PROJECT 2: Likoko Primary School Latrine Reconstruction & Safety Upgrade
Project: Renovation and safety upgrade of a four compartment pit-latrine toilet at Likoko Primary School
Location: Likoko Village, Fako Division, South West Region of Cameroon
Our donation of $2,250 was used to rehabilitate a destroyed pit-latrine toilet as well as to provide school furniture for the 308 children attending Likoko Primary Group 1 and 2. We removed the latrine's former roof which was leaking in several places, repainted and waterproofed the walls, and constructed a key safety upgrade which was designed to keep vagrants and potential sexual predators from accessing the toilet block.