Luena Foundation & PARC Uganda
Partners for Resource and Community Connect (PARC-UG) has worked with the local communities and local governments in Kasese since 2003 to transform the lives of the children and the communities that surround them.
PROJECT 1: Kamughobe Primary School Girls Latrine & Menstrual Health Management Facility
Project: construction of a 4-compartment latrine with two shower stalls and changing room, where girl students can wash and change when they are menstruating. The project included a water storage tank and hand-washing stations.
Location: Kamughobe Village, Kisinga Sub-county, Kasese District, Western Uganda
The government of Uganda provides "free" primary education for all. However, statistics show that fewer than 38% of girls entering Primary 1 (the equivalent of kindergarten) will complete their primary education. Many obstacles stand in the way of successful education for rural African girls but chief among them are issues relating to puberty, teen pregnancy, and early marriage. UNICEF estimates that 1 in 10 menstruating girls skip school 4 to 5 days a month and ultimately end up completely dropping out. The lack of effective hygiene measures (adequate WASH, privacy) is one of the factors driving absenteeism during menstruation, which in turn correlates to poor academic performance and high dropout rates for rural Ugandan girls.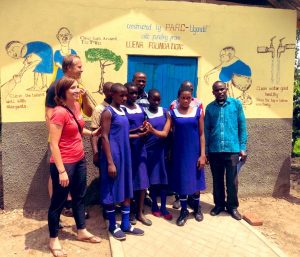 Our donation of $5,000 was used to construct a four compartment, gender-sensitive pit-latrine (separate sections for boys and girls), extend pipe-borne clean drinking water to the school and provide 50 desks for the classrooms.  Our efforts benefit the 440 children attending Muea Primary School and their six teachers.
This project provided girls with a safe space within their school to manage their periods, promote appropriate hygiene and sanitary behaviors focusing on hand washing among all school children, and improved the retention of girls in school by reducing the rate of school drop-outs.