Zambia remains one of the
least developed

countries in Africa, with 58% of the population living on less than $1.90 a day. In rural communities, children often lack access to clean water, sanitation, adequate health facilities and early childhood education.
Madimba Community Primary School Construction
in partnership with:

The Project: consists of the construction of a rural, community school that will benefit  approximately 200 of the community's youngest children.
Location: Mnkhanya Chiefdom is located within Lupande Game Management Area, a buffer zone where people live in marginalised land bordering the world-famous South Luangwa National Park (SLNP) in eastern Zambia.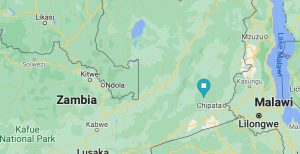 The nearest government-run school is ~10km away and young children cannot easily and safely walk this distance each day, particularly during the rainy season and given that this is an area with dangerous wildlife including lion, leopard, elephant and hippo. As a result these children are currently being taught by volunteers from the community in a make-shift school made out of mud, with open sides and a grass roof. They sit on mounds of earth and have no desks, text books or other learning resources.
The new school will be brick-built and consist of two classrooms and a staff room in one block. The classrooms and staff room will be fully equipped with furniture made by local carpenters. The school operates four primary education year groups, two in the morning and two in the afternoon, thus maximizing the use of the two classrooms. In addition, the community usually constructs a shelter made out of natural materials for the nursery school-age children.
A toilet block serving the children and their teachers, along with a water well will also be constructed.
Our Local Partner Organization
The High Five Club is a UK-registered charity that works hand in hand with impoverished communities living in wildlife areas of Africa to bring about sustainable change for both people and wildlife. It has a focus on:
Water and sanitation
Improving education provision for children
Health and nutrition
Supporting people to trade their way out of poverty
Wildlife conservation and environmental initiatives
The High Five Club's guiding ethos is of bringing people together to make a positive difference to the lives of people less fortunate than themselves. The aim of the High Five Club is to change lives in wildlife areas of Africa through an innovative membership scheme. Individuals pledge £5 a month to be collectively used to fund a community development project in Africa. 
The High Five Club's approach to development centres on providing an uplifting 'hand up' out of poverty, as opposed to a disempowering 'hand out' – hence the 'High Five' name. To achieve this they partner with pro-active communities they know on the ground in Africa to support them in bringing about their own development. 
Some of their current projects include:
Construction of community schools in rural areas
Construction of water wells to bring safe, clean water to rural communities
Initiatives that reduce human-wildlife conflict
Livelihoods development

 

Support of community conservation initiatives
School feeding programmes
Women's Revolving Loan Enterprise Development initiatives
Community initiatives preventing FGM and early marriage of young girls
For more information visit www.highfiveclub.co.uk